Waterproof, Cement-Base Coating For Exterior Underground Concrete and Masonry price 25 kg $139 includes gst
DRIZORO MAXSEAL FOUNDATION
Description BUY 7+ BAGS GET FREE DELIVERY TO SYD MELB BRIS
MAXSEAL FOUNDATION is a cement based product which, with special additives and selected aggregates to provide total waterproofing protection to concrete, bricks and blocks due to its high resistance to aggressive waters. Will seal against positive and negative water pressure.
Uses
Waterproofing of retaining walls, car parks, basements, elevator pits, below grade ingress of water in foundations.It can also be used as waterproofing layer or barrier against humidity by capillarity on a variety of mortar substrates.
Advantages
Good adhesion, it becomes part of the substrate , fills and seals all pores, missing mortar lines etc.
Must be applied to wet surfaces
Can be sprayed by airless sprayer (3 to 5mm tip)
Can be rendered or painted over.
NOT affected by salts and acids in soil.
Easy to apply with Drizoro brush.
Will seal against positive and negative water pressure.
Applications Instructions
Surface Preparation
To obtain a good bond to concrete or masonry surfaces, it needs to be a medium to high porosity substrate. If low porosity MAXSEAL FLEX should be used. Remove all oils, loose materials as well as blooms or plaster to create a clean surface.
At the wall/floor junction, cut a 2x3 cm. slot, refill it with MAXREST Or MAXPLUG or MAXJOINT ELASTIC. If honeycombing is present in concrete, patch it with MAXREST.
Concrete scaffolding wires or passing rods must be cut and patch with a minimum 1 cm. deep must be made, then patch with MAXREST. IT IS THE RESPONSIBLITY of the applicator to determine whether a structure contains any form of efflorescence
MAXSEAL FOUNDATION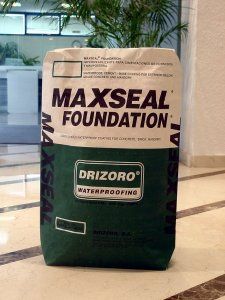 MAXSEAL FOUNDATION 25KG - price $139 includes gst

buy 8 bags and get free delivery
Maxseal Foundation is a single component product used for waterproofing of below ground situations and negative water pressure. Suitable for application by brush.
Recommended uses:
Exterior walls
Foundations
Basements subject to water pressure
Water and sewer treatment plants
Underground floors and tunnels
Features:
Easy application
Resistant to corrosive effects of water
Non toxic
Resistant to hydrostatic pressure from ground water
Coverage:
1 sqm per 1.5kg per coat
Two coat application required
25 kg bag will coat 8 sqm complete
Re-coat time 12 hrs
Full cure 7 day
MAXSEAL FOUNDATION is a construction grade cement based product which, together with special additives and selected aggregates gives it waterproofing characteristics, whether the foundations are in concrete or masonry. It gives great protection to foundation concrete due to its high resistance to aggressive waters
Can be rendered over or painted.
Can be rendered over 24 hours after second coat applied – flick or scratch coat must be applied by renderer – After 14 days can be painted over, normal paint procedure on any cement based coatings.
Uses
Waterproofing of retaining walls, carparks, basements, elevator pits, tanks and dams.
Advantages
Good adherence, it becomes incorporated to the support where it is applied, it fills and seals pores.
It can be applied on wet surfaces not needing these to be dried.
Lesser cost than any other traditional system.
Large duration and superior to any others asphalt product.
Unaffected by soil salts. In a positive application.
Easy to apply with tampico type brush, obtaining large yields at its application.
Prior To Application
Any traces of efflorescence in negative waterproofing should be treated with Saltrid as per Efflorescence Specification. Concrete and masonry foundation walls subject to extreme pressures and water aggressiveness. Please contact office.
Mixing
Pour clean water in a bucket and add MAXSEAL FOUNDATION, ratio approx 3.5kg powder to 1 litre of water mix slowly with electric drill (400-600 rpm) obtaining a thick creamy paste. Let material rest for 5 minutes before application. A 25 Kgs.MAXSEAL FOUNDATION bag requires 7-7.5 Itrs. of water.
Application
At the joining area between vertical wall and foundation slab, make a 2x3 cm. slot refill it with MAXREST, MAXPLUG,MAXJOINT ELASTIC, MAXSEAL FLEX is recommendedfor all cold joints. If honey combing is present in concrete, patch with MAXREST. Dampen surface with clean water and apply a first MAXSEAL FOUNDATION layer with a 1,5 Kg / m2 load. After 14 to 24 hours curing, dampen the surface again before applying a second layer and must be applied crosswise with a 1 Kg / m2 load (1 to 1.5 mm wet film thickness)
Caution
DO NOT apply in excess of 2 layers.
DO NOT apply to bitumen or polyurethanes.
DOES NOT place plastic or core flute protection boards against treated surfaces prior to back filling.
Drainage cell and aggregate can be placed.
Curing
Allow surface to cure for 3 days prior to back filling and 7 days prior to filling structure with water
Curing
During curing, water vapour may condense on the Surface in poorly ventilated areas. Place exhaust fan or heat source to eliminate moisture saturated air. Allow surface to cure for 3 days prior to back filling and 7 days prior to filling structure with water.
Applications Tools
MAXSEAL FOUNDATION is applied by brush, MAXBRUSH or broom to ensure penetration into pores and hollows. Apply at a thickness of approx. 1 mm to form a continuous and even coating, do not extend as paint and apply only in one direction. Second layer must be applied crosswise. After material application, clean brushes with water for further use.
Application Temperature
At summertime temperatures, wet the surface with abundant water to cool surface. If fast drying is observed, water can be mist sprayed 2 hours after the product application. In winter time do not apply at temperatures below 5º C or if lower temperatures are expected within the next 24 hours after the application.
It must not be applied on frozen or icy surfaces. Optimal working temperature is between 15 to 28º C. Avoid application when rainfall is expected within the next 4-6 hours further to application.
Packaging
25 Kg., bags and 14 kg handipack.
Storage
One year in its original unopened container in a dry covered place, protected from frost.
Laboratory Tests
Waterproofing and mechanical resistance.
Tests carried out at Instituto Eduardo Torroja, available upon request
Caution
As all cement products MAXSEAL FOUNDATION is an abrasive compound. It is not toxic but care should be taken while mixing and applying , do not to let it come into contact with the hands. Rubber gloves should be worn for protection. If it splashes in the eyes, rinse well with clean water; do not rub. If irritation persists, consult a doctor.
Guarantee
The information contained in this leaflet is based on our experience and technical knowledge, obtained through laboratory testing and from bibliographic material. DRIZORO reserves the right to introduce changes without prior price. Any use of this data beyond the purposes expressly specified in the leaflet will not be the Company ́s responsibility unless authorised by us.
The data shown on consumptions, measurement and yields are for guidance only and based on our experience. These data are subject to variation due to the specific atmospheric and jobsite conditions so reasonable variations from the data may be experienced. In order to know the real data, atest on the jobsite must be done, and it will be carried out under the client responsibility. We shall not accept responsibility exceeding the value of the purchased product.
For any other doubt, consult our Technical Department. This version of bulletin supersedes the previous bulletin.©