Roof and Balcony Waterproofing Sydney
Balconies & Roofs
They may be out of site and out of mind but your balcony and your roof need as much attention as the rest of your property and require waterproofing. Look at the great range of products below and find the solution that's best for you.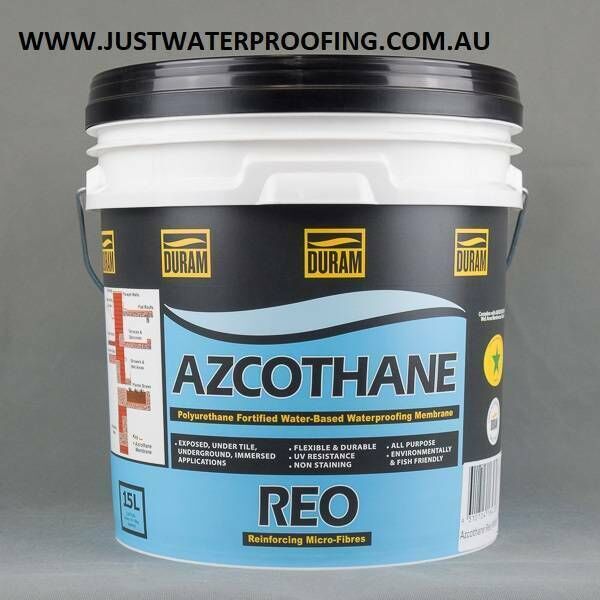 DURAM AZCOTHANE REO 15 LITRE WATER BASED POLURETHANE INCORPORATING MICRO FIBRES
Duram Azcothane Reo is a water-based, highly flexible, high performance, polyurethane fortified acrylic emulsion waterproofing membrane formulated for use in demanding exposed, under tile, underground and immersed waterproofing applications. This elastomeric, environmentally friendly membrane designed for both internal and exposed external applications cures to form a durable, odourless, impervious, seamless membrane that when fully cured does not re-emulsify even if immersed in water. Does not stain grout or tiles and has excellent resistance to hydrostatic pressure.
CLICK HERE FOR FULL DATA SHEET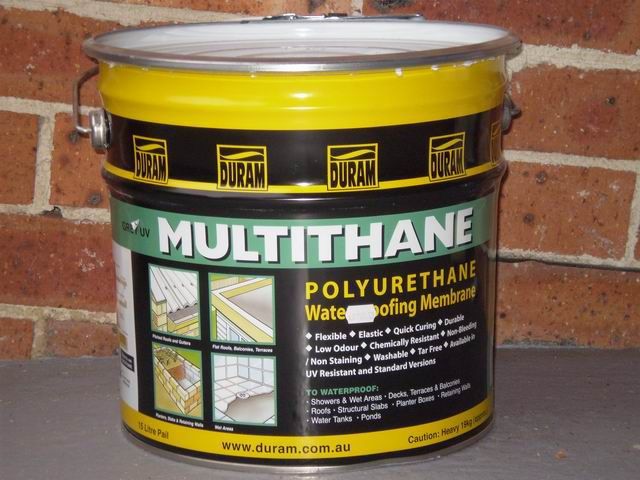 Multithane STD - Polyurethane 15L (Price $159 including gst)
SOLVENT BASED POLYURETHANE
Duram multithane is a tough, durable elastomeric, single pack, liquid applied polyurethane membrane. Grey in colour. Multithane forms a tough flexible, seamless waterproofing membrane designed for both vertical and horizontal surfaces that bonds well to most suitably primed building substrates.
Represents the highest standards in waterproofing 500% flexibility (tests show)
Fast curing
Permanently flexible, High strength and puncture resistant
Tar free
Easy to apply
Coverage 1.5 to 1.6L per sqm may vary depending on job.
Uses: Shower recesses (floors and upturns) decks, balconies, terraces, retaining walls, plant boxes, tanks etc.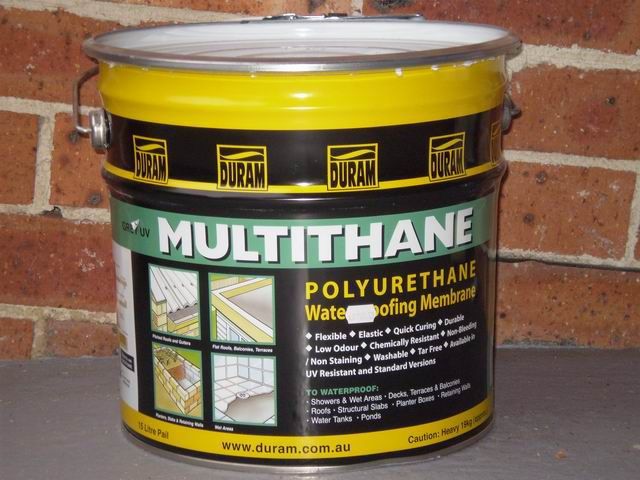 Multithane HV (high Viscosity liquid applied polyurethane membrane for non exposed areas (for exposed areas use UV) 15L PRICE $178 INCLUDING GST
Thixotropic anti sag version of multithane std, liquid polyurethane waterproofing membrane designed for application to vertical, sloped or uneven surfaces.
COVERAGE; generally 1.5 to 1.6 litres per sqm for 2 coats combined ie 0.75 to 0.80 litres per sqm per coat. Average 15L drum covers approx 10sqm (2coats)
Uses: Retaining walls, bathroom floors, tanks, pits, planter boxes etc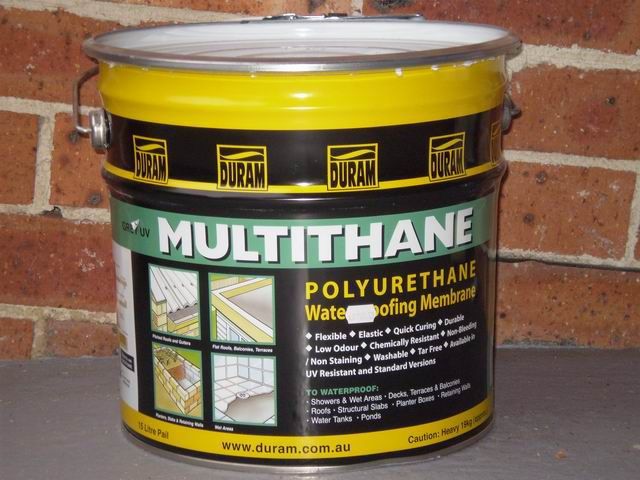 Multithane UV 15L (polyurethane membrane for exposed areas flat roofs etc) $178 INC GST
GREY SOLVENT BASED POLYURETHANE

Multithane UV is a uv resistant tar free, elastomeric, single pack, moisture curing liquid membrane, which cures to form a elastic high tensile and seamless membrane. Simply applied by brush or roller.
Single pack (no mixing)
Fast curing (24 hours)
Suitable for direct sunlight exposure
Permanently flexible tests show 500% flexibility class 3 highest class
Long history of Australian use
Coverage: 1.5 to 1.6L per sqm
Uses: Flat roofs, water features, gutters, decks plant boxes etc..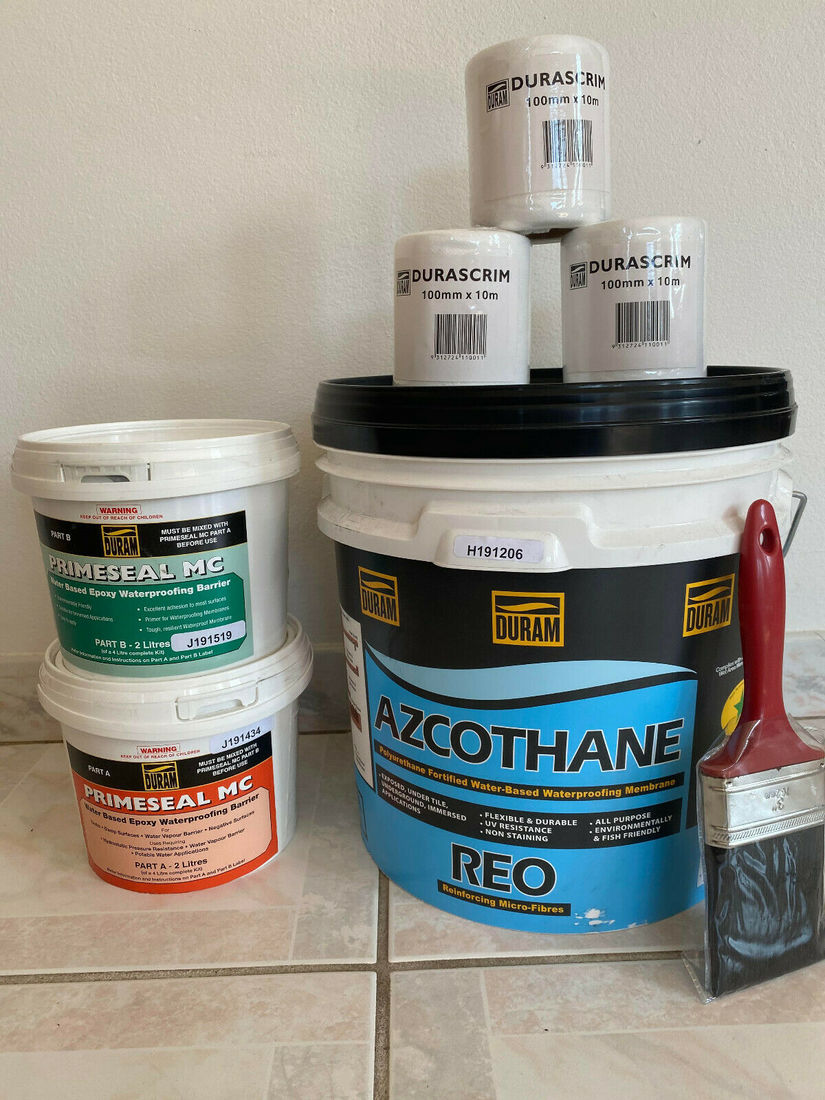 CARAVAN ROOF WATERPROOFING BUNDLE (WHITE COLOUR) price $245 inc gst
INCLUDES
4L PRIMESEAL MC HIGH QUALITY EPOXY PRIMER
3 X ROLLS OF POLYESTER FABRIC SIZE 100MM X 10M EACH USE OVER JOINS, CRACKS, GAPS AND CORNERS FOR EXTRA TENSILE STRENGTH AND MEMBRANE BUILD UP
15L OF AZCOTHANE REO WHITE HIGHEST QUALITY UV MEMBRANE
1 QUALITY BRISTLE BRUSH
$25 DELIVERY PRICE IS FOR NSW VICTORIA BRISBANE GOLD COAST ADELAIDE PERTH IF OUTSIDE THESE AREAS EMAIL US POSTCODE FOR PRICE
INSTRUCTIONS
CLEAN THE AREA AS WELL AS POSSIBLE
MIX PART A WITH PART B PRIMESEAL EQUAL PARTS 1-1 MIX WELL AND APPLY 1 COAT, ALLOW TO DRY
important once you mix you must use so if your going to do section by section only mix what you need. drying time approx 4-8 hours
start with joins/gaps apply a coat of azcothane reo over the join place the tape on top and brush over the tape, try to make the tape as flat as possible to stop any air being trapped under tape
when joins are done apply the azcothane reo over entire area allow to dry 1 day
next day apply another coat of azcothane reo white
most important do the job in dry sunny weather
BENEFITS OF USING AZCOTHANE REO
It meets the criteria of AS4858:2004 and is applied in accordance with AS3740:2004
Permanently flexible (tested to class 111 - highest tensibility) & strong.
EXHIBITS EXCELLENT CHEMICAL RESISTANCE AND HAS BEEN FORMULATED TO INHIBIT BIOLOGICAL GROTH

THESE PRODUCTS WORK ON ALL EXISTING MEMBRANES, PAINTED ROOFS INClUDING IF POWDER COATED
IF THE ROOF IS BARE METAL USE A METAL ETCH PRIMER INSTEAD OF PRIMESEAL PRIMER IF IT IS GALVANISED METAL USE A METAL PRIMER SUITABLE FOR GALVANISED METAL, WE ALSO SELL THESE PRODUCTS SEPARATELY ON OUR EBAY STORE IF YOU WANT TO PURCHASE AZCOTHANE REO SEPARATELY MAKE SURE YOU EMAIL US STRAIGHT AWAY AFTER PURCHASE IF YOU WANT THE WHITE COLOUR INSTEAD OF GREY (IF BUY AS KIT WE SEND WHITE IF BUY SEPARATELY WE SEND GREY)
More information on waterproofing your roof or balcony
If you require any clarification or would like to chat through your roof and balcony waterproofing options give the team at Just Waterproofing a call on 1800 152 172, we here to give you a helping hand.