Durabit Reo 15L Latex based PRICE $130 INCL GST
Reinforced with micro fibres latex based, water based - waterproofing membrane provides a tough, high tensile strength flexible waterproofing membrane. Meets the criteria of AS 4858; 2004 wet area membranes. Available in grey and blue.
Contains micro fibres internally reinforced

Tough durable and flexible

Compatible with most tile adhesives

Easy to apply
Coverage: 1.5L per m2 unreinforced
Uses: Shower recesses and wet areas, tiled balconies, decks, podiums and retaining walls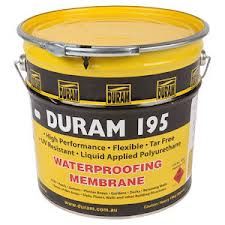 Duram 195 (single pack liquid polyurethane 15L) (Popular product) PRICE $178 INCLUDING GST
CALL 1800 152 172 TO ORDER NOW
Single pack liquid applied moisture curing, self levelling waterproofing membrane. When cured it forms a seamless tough durable elastomeric (Class3) waterproofing membrane. Will not bleed or stain tiles as the product is tar and bitumen free.
Fast curing (24 hours)

Permanently flexible tests show 500% flexibilty class 3 highest class

Will not stain tiles or grout ( Tar and bitumen free)

Self levelling

High strength and puncture resistant

Odourless when cured

Easy to apply
Coverage: Generally 1.5 to 1.6L per sqm
Uses: Roofs, decks, terraces ,Plant boxes, balconies, podiums, retaining walls, Water tanks etc..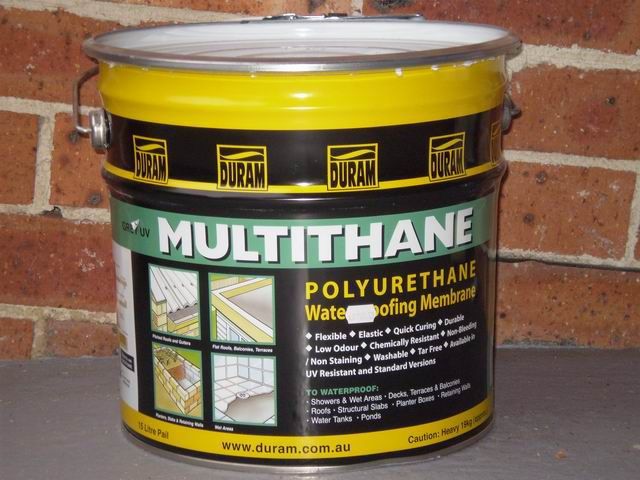 Multithane STD - Polyurethane 15L (Price $159 includes gst )
Duram multithane is a tough, durable elastomeric, single pack, liquid applied polyurethane membrane. Grey in colour . Multithane forms a tough flexible, seamless waterproofing membrane designed for both vertical and horizontal surfaces that bonds well to most suitably primed building substrates.
Represents the highest standards in waterproofing 500% flexibility (tests show)
Fast curing
Permanently flexible, High strength and puncture resistant
Tar free
Easy to apply
Coverage 1.5 to 1.6L per sqm may vary depending on job .
Uses: Shower recesses (floors and upturns) decks, balconies, terraces, retaining walls, plant boxes, tanks etc.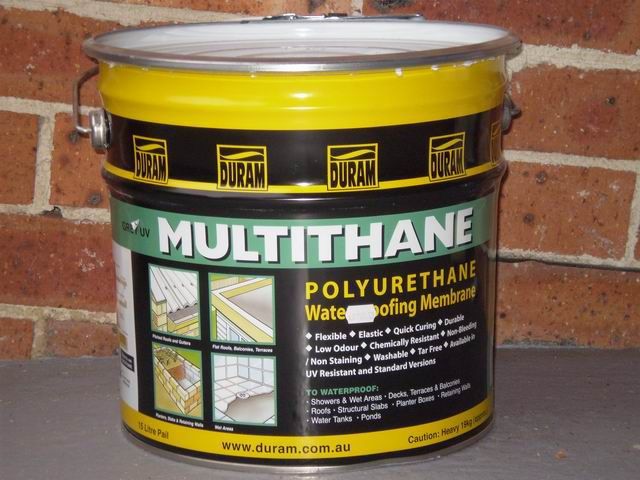 Multithane HV (high Viscosity liquid applied polyurethane membrane for non exposed areas)
PRICE $178 INCL GST 15LITRE
Thixotropic anti sag version of multithane std, liquid polyurethane waterproofing membrane designed for application to vertical, sloped or uneven surfaces.
COVERAGE; generally 1.5 to 1.6 litres per sqm for 2 coats combined ie 0.75 to 0.80 litres per sqm per coat. Average 15L drum covers approx 10sqm (2coats)
Uses: Retaining walls, bathroom floors, tanks, pits, planter boxes etc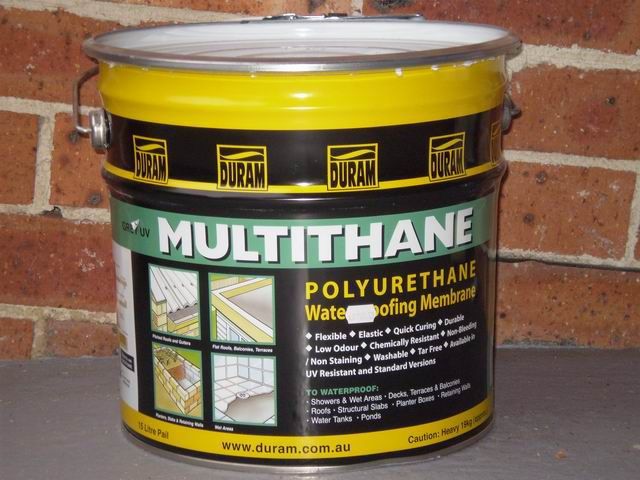 Multithane UV 15L (polyurethane membrane) PRICE $178 INCLUDES GST

Multithane UV is a uv resistant tar free, elastomeric, single pack, moisture curing liquid membrane, which cures to form a elastic high tensile and seamless membrane. Simply applied by brush or roller.
Single pack (no mixing)
Fast curing (24 hours)
Suitable for direct sunlight exposure
Permanently flexible tests show 500% flexibilty class 3 highest class
Long history of Australian use
Coverage: 1.5 to 1.6L per sqm
Uses: Flat roofs, water features, gutters, decks plant boxes, Bathroom Floors etc..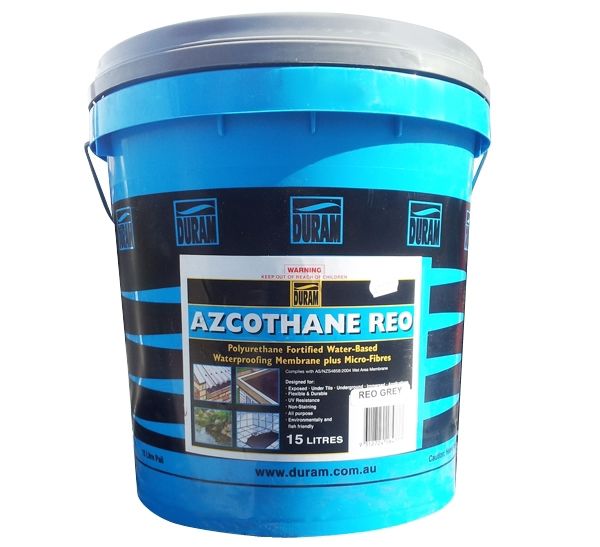 Azcothane polyurethane fortified, water based waterproofing membrane

PRICE $139 INCL GST
Azcothane is a water-based, highly flexible, high performance, polyurethane fortified acrylic emulsion waterproofing membrane formulated for use is demanding exposed, under tile, underground and immersed waterproofing applications. Duram Azcothane's formulation complies with AS4858:2004 and is generally applied in accordance with AS3740:2004 and meets the 'Green Star' environmental criteria.
USES BATHROOMS, BALCONIES, EXPOSED ROOFS, ETC BUY 10+ DRUMS = FREE DELIVERY