VIROTUFF Environmentally friendly Anti Slip Coating 15L $179 incl gst

COLOURS ARE 10-15% LIGHTER THAN DATA SHEET
ViroTuff is a hard-wearing , water-based anti-slip coating that is applied by roller, brush or spray.
VitoTuff is designed to provide safe and secure footing for many types of pedestrian areas suchas: Walkways, Industrial floors, Domestic areas - Pool surrounds,decks. stairs, garages.
Available in a range of colours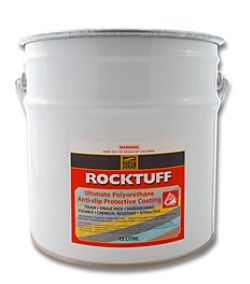 ROCKTUFF 15L PRICE $259 incl GST
Duram Rocktuff The ultimate in an anti-slip coating in a single can. Duram Rocktuff is a single pack, liquid applied polyurethane coating that can be brushed, sprayed or rolled.
No more two pack systems which are difficult to use.
Unbelievably Rocktuff is - tough yet flexible, hard yet impact resistant, will not flake or crack, has good chemical resistance, approved fire rating and has an attractive textured finish with an anti-slip rating which makes it suitable for industrial, commercial and domestic applications
Rocktuff is available in a Light Grey, Dark Grey, Black, Safety Yellow.
CLICK HERE FOR MORE INFORMATION
Azcoflex TR (Trafficable) (15L) low gloss finish price $145 incl gst
Duram azcoflex TR Is a trafficable, high build water based acrylic waterproofing membrane designed for use in areas of infrequent to moderate foot traffic. Azcoflex is UV resistant tough and durable but still flexible. When cured it gives a seamless waterproofing membrane with excellent water ponding resistance, low dirt pick up and good thermal shock stability.
(can be tinted)
Coverage: Depends on porousity and texture of job reinforced 2L per m2 unreinforced 1.5L per m2.
Uses: Flat Roofs, decks, terraces, podiums, walls, parapets and balconies